Apple has just unveiled a bunch of new MacBook Pro models, equipped with the shiny new M2 Pro and M2 Max processors. You can read about the 14-inch model here, but in this article, we're going to be examining the bigger (and more expensive) 16-inch version.
Thanks to the newly powered-up M2 Pro and Max chips, we can definitely expect the 2023 MacBook Pro 16-inch to make its way onto our list of the best MacBooks and Macs, not unlike the mighty MacBook Pro 13-inch (2022) , which didn't have those chips – instead using the standard M2 SoC found in the MacBook Air (2022).
There's a lot to like here, from uber-powerful new silicon to a pleasingly sane price model. Sure, they're still seriously expensive devices, but that shouldn't be surprising to anyone remotely familiar with Apple hardware; the important thing here is that we're not looking at any huge generational price jumps.
Keep reading and you'll find all the details we know about this new laptop right now. Of course, we'll have a review up as soon as we can run the new MacBook Pro through its paces, so keep an eye out for that in the next few days!
MacBook Pro 16-inch (2023): Cut to the chase
What is it? The 16-inch model of Apple's 2023 M2 MacBook Pro
When will it be available? Available for order now, official release on January 24
What will it cost? Ranging from $2,499 to $3,499 without optional upgrades
MacBook Pro 16-inch (2023): Release date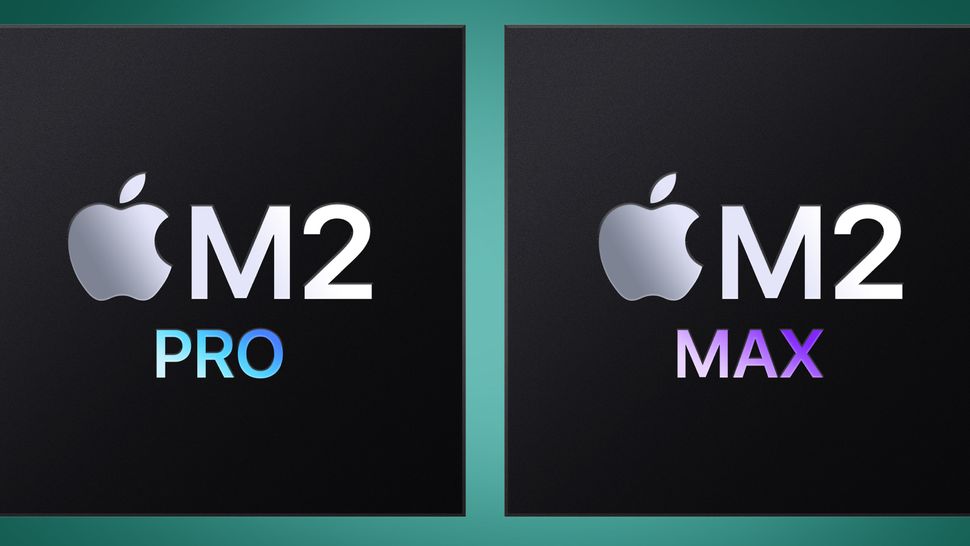 Take a quick trip over to the Apple website and you'll find a video (opens in new tab) with a ton of information about the new MacBook Pro 16-inch. Perhaps the most pertinent detail here is the release date, which will be January 24 – though pre-orders are available now through the Apple website and supporting retailers.
Also launching on January 24 is the M2 MacBook Pro 14-inch and new M2-powered versions of the Mac mini. Dispatch is guaranteed by January 23 if you pre-order directly from Apple, so get yourself over to their website (opens in new tab) if you want one of these new laptops ready for release day (or very soon after, at least).
MacBook Pro 16-inch (2023): Price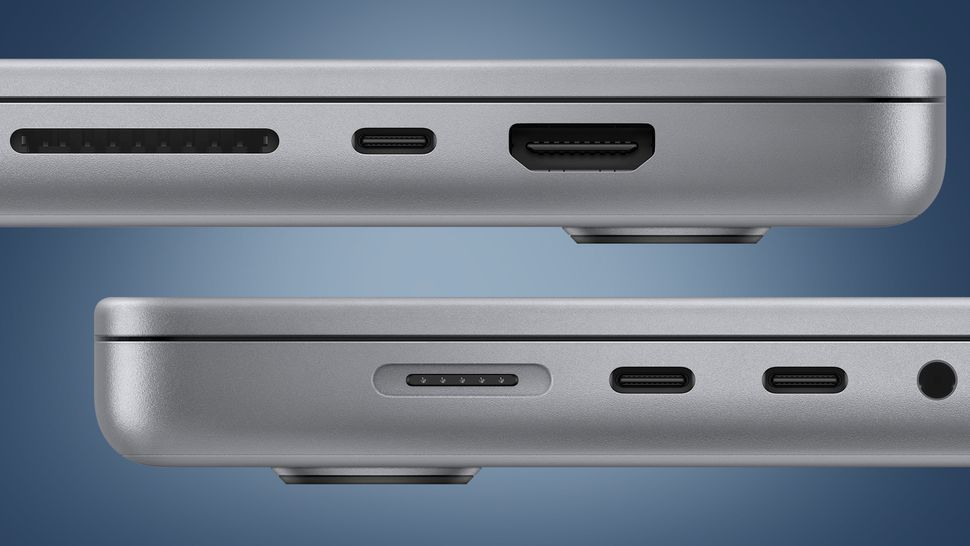 As mentioned above, we're pleased to see that the M2 MacBook Pro 16-inch isn't getting a big generational price increase this time around. Much like the M1 Pro version, this laptop starts at $2,499 for the base configuration: that's the M2 Pro chip, 16GB of unified memory, and 512GB of SSD storage.
Looking at the more powerful models, the M2 Max version of the MacBook Pro 16-inch will run you a cool thousand more with its $3,499 base price, which comes with 32GB of memory and a 1TB drive.
As usual, of course, all the models listed on Apple's website can be configured specifically to your liking, adjusting the processor, RAM, and storage. If you go nuts and opt for the highest-possible spec (which has a ludicrous 96GB of memory and 8TB of storage), you'll be paying a wallet-battering $6,499. You can also get Final Cut Pro and Logic Pro software preinstalled on the laptop, at $299.99 and $199.99 respectively.
Unfortunately for UK buyers, pricing outside of America is a bit steeper. The additional upgrades to the internal components get a direct currency swap (so it's $200/£200 to upgrade from a 512GB SSD to a 1TB one) but the base prices for each model are inexplicably higher in the UK.
The cheapest model will cost £2,699 in Britain, about $3,315 at the time of writing. The higher-end M2 Max edition will cost £3,749 – that's a little over $4,600, more than a thousand bucks more than it costs in the US. Considering the current cost-of-living crisis squeezing the UK, this is a deeply disappointing move from Apple.
Australian prices also start from an eye-watering AU$3,999. To upgrade to the 1TB storage, Aussie buyers are going to have to fork out an additional AU$300 for it. The M2 Max also has a steep price jump, setting back anyone after the higher-end model at AU$5,599.
MacBook Pro 16-inch (2023): Specs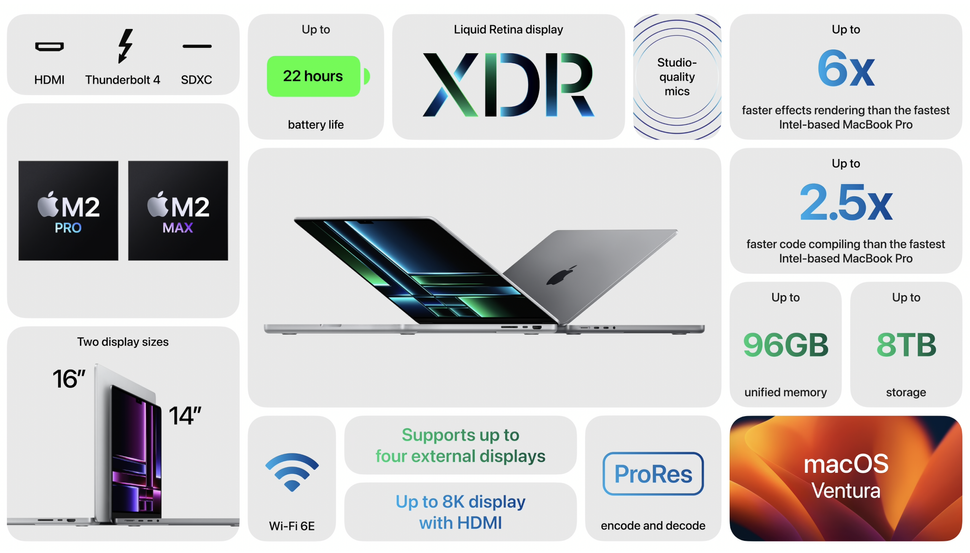 Interestingly, only the more powerful version of the two M2 Pro chip variants is available in the 16-inch MacBook Pro; a slightly toned-down version with fewer CPU and GPU cores can be found in the cheapest configurations of the new MacBook Pro 14-inch.
You can choose from two different versions of the M2 Max chip, however, one with 30 GPU cores and a more powerful version with 38. Each model has the same 12 CPU cores and 16-core Neural Engine built in.
In terms of memory, configurations are tied to the chosen processor, with 16GB or 32GB available for the M2 Pro and up to 96GB available for M2 Max models. Storage starts at 512GB, and can be configured up to 1TB, 2TB, 4TB, or 8TB. The MacBook Pro 16-inch with the M2 Max chip will come with a minimum of 1TB drive capacity.
The 16-inch display is technically a 16.2-inch screen, but the rounded corners slightly reduce the effective viewing area. Nevertheless, it's the same high-quality Liquid Retina XDR display we've come to love on Apple's laptops. We've got an upgraded battery too, with a potential battery life of up to 22 hours.
For physical connectivity, we're looking at three Thunderbolt 4 ports, an HDMI port supporting 8K video output, an SDXC card slot, a headphone jack, and a MagSafe 3 port for charging the laptop. All in all, it's an impressive showing for Apple's latest MacBook Pro.