The use of VPN services has surged in Turkey as authorities have restricted access to Twitter on Wednesday. This comes only two days after a devastating earthquake that killed over 15,000 people in both Turkey and Syria.
One of the best Turkey VPNs on the market, Proton VPN recorded a significant increase in usage from inside the country. A peak in hourly sign-ups rose 30,000% above normal levels, dwarfing those coming from the rest of the world.
While no official explanation has been provided, internet watchdog NetBlocks believes that the Twitter ban came as a means to prevent disinformation around the disaster from spreading online.
The service now appears to have been restored. Despite this, Proton usage keeps being ten times above its usual Turkish baseline.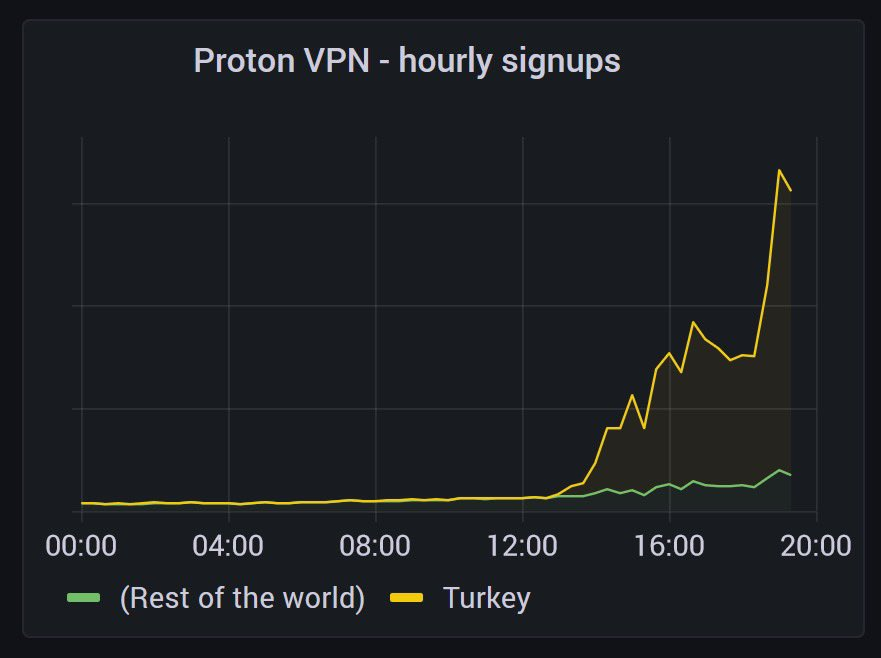 What's happening in Turkey?
NetBlocks first reported the ban on Wednesday, after observing that a filter blocking Twitter access had been applied on all the major Turkish ISPs.
Such a block came exactly when citizens relied the most on such a service to stay informed about the aftermath of the deadly earthquakes that shook the peninsula just about 48 hours before. Even worse, the disaster had already impacted the internet infrastructure at that point.
"The measure is distinct from the impact of the recent earthquakes, and can be circumvented by use of a VPN service," NetBlocks explained in a tweet (opens in new tab).
Well, people in Turkey have certainly listened to that advice. Proton VPN alone registered a peak of over 30,000% more hourly sign-ups than usual. At the time of writing, its VPN usage is still ten times higher even though the Twitter ban is now lifted.
Such a situation isn't that surprising, though.
With internet shutdowns becoming common practice among governments looking to either silence critics or disrupt the normal news flow, users have been taught to quell them.
"Maintaining access to a free uncensored internet is essential," said Andy Yen, Proton's founder and CEO.
"This is particularly true at times of crisis when people rely on online platforms to share information with friends, loved ones and the wider community."
Yen said the latest numbers are, in fact, matching up with those recorded during the early days of Iran's protests.
That's because a VPN spoofs users' real location, rerouting the traffic via one of its many international servers instead. This means that people in Turkey and beyond can then appear as if they're browsing from a totally different place within seconds, allowing them to beat any censorship in place.
Even better, as part of its humanitarian mission, Proton offers an unlimited free VPN to make internet freedom available for anyone to enjoy.
"Proton VPN is committed to doing all it can to protect free access to information for everyone, no matter who or where they are," said Yen.